Our Specification
STRENGTH AT IT THE CORE
48mm SOLID TIMBER CORE
The 48mm Solid Timber Core of an Endurance Doors is up to 10% thicker than other composite doors on the market, a difference that your customers will hear each time they close their door. Whilst other doors may click shut, the reassuring clunk of an Endurance doors lets your know your home is secure.
3mm BOWING GUARANTEE
The core of an Endurance Door is composed of 17 crossed layers of engineered timber, providing our products with unrivalled strength as well as market leading resistance to bowing.
The construction of our solid timber core, combined with the performance of our heat reflective foiled skins, gives us the confidence to offer a bowing guarantee of just 3mm.
In the unlikely event that an Endurance Door does bow further than this, we will replace the slab free of charge and even send one of our experienced Service Engineers to replace it on your behalf.
0% MOISTURE INGRESS
A feature which is entirely unique to Endurance Doors, the Moisture Barrier System sits at the base of every Endurance Door leaf.
Back in 2013, we introduced the Moisture Barrier System after noticing a spike in doors swelling and sticking within the frame or delaminating after a heavy month of rain. After inspection, our team noticed that the drainage holes within the threshold of the affected doors had become blocked, leaving the solid timber slab exposed to standing water.
Since introducing the Moisture Barrier System, the Endurance Door simply does not suffer with issues associated with moisture ingress.
HIGH SECURITY AS STANDARD
The UK's strongest and most secure door comes complete with a High Security Diamond Grade locking cylinder.
The patented design of the ABS Ultimate Cylinder features anti-pick and anti-drill pins to protect it from attack from conventional tools as well as featuring sacrificial cuts to prevent access by lock snapping.
The clever locking system of the Ultimate Cylinder has another trick up its sleeve. Breach Detection Technology means the cylinder can tell when it is being attacked, with a hidden mechanism within the solid Molybdenum core acting quickly to lock down the cylinder and stop would be burglars in their tracks.
Due to the security offered by the ABS Ultimate Cylinder, we are pleased to offer a £2,000 Security Guarantee to cover your customers should their home be broken into by means of snapping the locking cylinder.
SAFE FROM SUN
HEAT REFLECTIVE FOILED SKINS
Aesthetically, the foiled skin of an Endurance Door offers a premium look and feel, with authentic timber detailing and a robust scratch-resistant finish.
However, the real beauty lies beneath the surface. Due to the white substrate used to manufacture the skins, up to 95% of the sun's rays are reflected away rather than absorbed.
By maintaining a stable temperature, the skin of an Endurance Door is far less susceptible to cracking and fading. This quality also contributes to the market-leading resistance to bowing offered by the Endurance Door too.
PERFECTLY MATCHING
PERFECTLY MATCHING DOOR & FRAME
A premium door requires a premium finish. Unlike other composite door manufacturers, Endurance Doors are able to offer a true, perfect match between the door leaf and frame.
The foil that is applied to our frames to give them their colour is also used on the skins of our famed solid timber core door leaf.
This means we can offer a perfectly matching frame for 18 of our stunning colour options.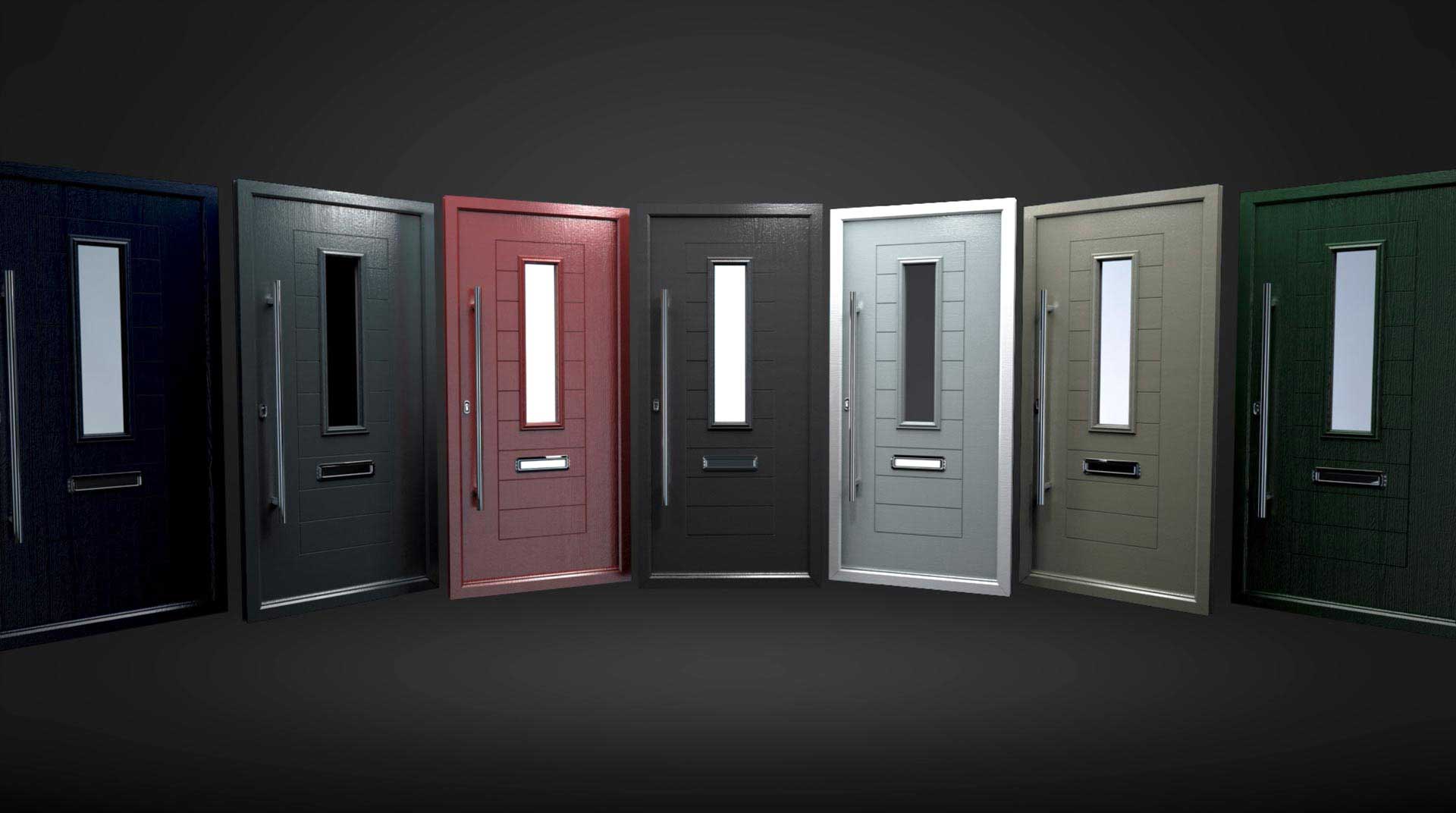 A DOOR FOR EVERY HOME
As a manufacturer of truly bespoke, solid core composite doors, we understand that every homeowner has their own unique style.
By choosing Endurance, your business will be able to offer the largest range of Door Styles, Colours, Hardware and Glazing on the market.
Our range of over 80 door styles ensures that there is an Endurance Door for every home. From period looks of the Victorian and Georgian eras to a more cutting-edge, modern aesthetic, there is a style within our range to suit every homeowner's tastes.
Once your customer has selected their chosen style, our range of 19 colours, 50 glazing designs and countless hardware options mean their chosen door design will be as unique as the homeowner who designed it.
OUR CUSTOMERS WORDS
I have been purchasing doors from Endurance for over ten years and they are by far the best Composite door on the market.
ADVANCED GLAZING SYSTEMS LTD
Brilliant and a very well built product, we have installed other makes of doors but Endurance are at the top of their game and we will not fit any other make of composite door also their customer service is on par with the best.
SAFE & SOUND TAVISTOCK
We are in the process of building a Endurance showroom in Merthyr Tydfil as we believe showing the quality of Endurance's products to the public is the way forward. We work directly with Endurance and our sales are exceeding all expectations, we're really looking forward to the future.
DOORS 2 GO LTD
Excellent product! I have dealt with Endurance for nearly 8 years. Personally, I think they offer the best composite door on the market.
SEAL SERVICES CHESTERFIELD
Composite Doors Cardiff Limited have solely provided Endurance Doors to our customers as there is no better solid core composite door available, in our opinion and based on our experience. The products are great, the marketing support is great, the staff are great, the delivery drivers are great – you can see where this is going. We have won many awards for our service and part of that can only be attributed to the products that we choose to use.
COMPOSITE DOORS CARDIFF