We thought it was about time we showed off another case study and we've got a great one today! We took a trip to Somerset to help Laura with her project and it turned into a very rewarding and enjoyable job. Her new door combined a classic style with a neutral colour and is a great example of how certain designs can speak volumes without you even noticing.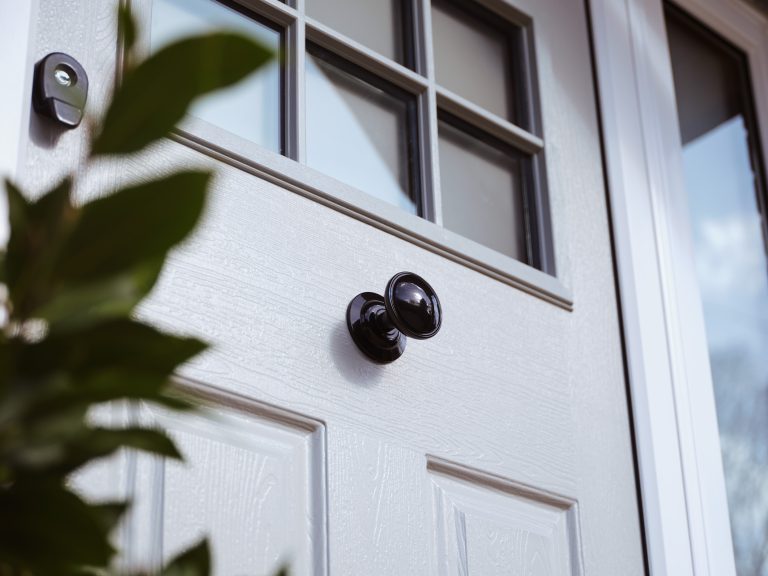 Laura's old door was starting to show its age, so she contacted us to help with a replacement. The first thing we noticed was the traditional design of her home. She owns a delightful detached house with a nice interplay between white windows and light red brickwork. It also featured an open porch with a distinct welcoming charm, so we had to design a composite door that matched her existing decor.
As you can see from the photos, the finished door was a big success. She opted for a Pentland door from our classic collection with a Pearl grey finish. The Pentland is a simple but elegant door and the soft, neutral colour was an excellent choice. It's not an overbearing or dramatic one, but it is versatile and welcoming. Her new door fits nicely into the existing aesthetic and adds to the gentle, homey vibe.
It didn't take Laura long to choose her preferred colour and style, so the next step was to find suitable hardware and glazing. She wanted to increase the light levels inside the house but retain some degree of privacy, so the satin glass with two sidelights was a natural choice. She also asked for the inside surface of the door to be white, as this would match her existing wallpaper and make things even brighter. 
To finish it off, she went for a black pull knob on the exterior and a black finger pull escutcheon for indoors. The darker accessories contrast with the neutral finish and stand out more, but she didn't want to go too far and decided not to have a letterbox. The completed door looks sleek and timeless.
Laura's composite door installation went very smoothly and we're extremely pleased with how it turned out. She also sang the praises of our online door designer and loved the intuitive interface. In many ways, this door was created entirely by her and we only helped to bring it to life. 
If seeing Laura's new door has left you contemplating your own project, why not get in touch with Endurance Doors? You can email us at marketing@endurancedoors.co.uk or call 01652 340340 to find out more.