Grey has been a popular colour for composite doors for a while now, but is it on the way out? Here at Endurance Doors, we've noticed that while our customers are still interested in grey doors, there's another trend on the rise. More people are asking about neutral colours like Sage and Claystone, so could this be the next big thing in composite door design?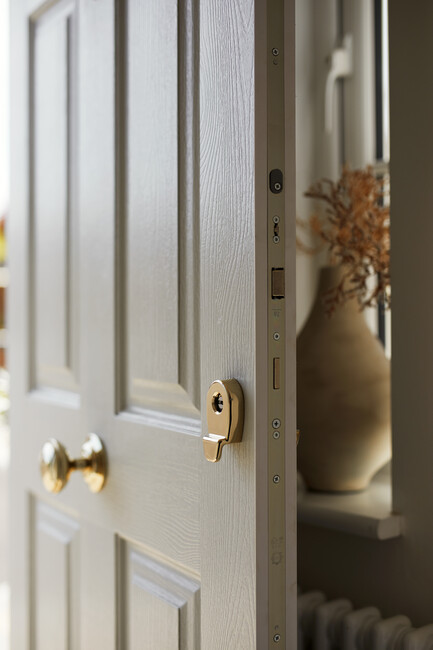 This shift in popularity has been gradual and started with an increased focus on Pearl grey over classic grey. It almost acted like a bridge between the two colour trends; Pearl grey is a shade of grey after all, but it also falls under the neutral colour bracket. Since then, we've had more homeowners asking about neutral colours and to be quite honest, we can understand why.
Take Claystone for example. We first added it to our collection back in May and it was an instant hit. Like all our neutral colours, it is incredibly versatile and complements all manner of architectural styles. In the short time we've been offering Claystone, we've used it on doors for modern homes and traditional ones and even created a few specialised stable doors for farmhouses. Claystone and our other neutral colours are ideal whether you want a cutting-edge, contemporary aesthetic or a rustic, homespun vibe.
Neutral colours pair very well with different types of hardware too. If we were pushed to make a recommendation, we'd say it goes best with black accessories from our Heritage range. The contrast in colours works exceptionally well, but this is just a matter of personal tastes. Neutral colours suit multiple hardware types, so picking a colour like Sage is a great way to open up your customisation choices.
Perhaps the best thing about neutral colours though is their subtlety. They're not loud or garish doors, but they have a calm sophistication about them and always leave a quiet, but positive impression on visitors. It's too early to be certain if neutral colours will overtake grey as the most popular choice for door designers, but the race is getting close. 
With all this in mind, it shouldn't be a surprise that neutral colours are becoming more fashionable. They can help your replacement composite door form a fundamental part of your home and give it a cohesive look. There's no doubt in our minds that we'll be hearing more about Sage, Pearl grey and Claystone this year. 
If you're interested in incorporating neutral colours into your next composite door design, you are more than welcome to contact us. You can reach us at sales@endurancedoors.co.uk or by calling 01652 340 340. Get in touch today, we'd love to discuss your ideas.