It's time to hire a DJ and a bouncy castle, bake a cake and blow out the candles; the Endurance Doors show centre is celebrating its first birthday. It's hard to believe that an entire year has gone by and it seems like only yesterday we were opening it to the public. We've seen a lot of people in that time and it's been hugely rewarding, so we can't wait to see what year two brings.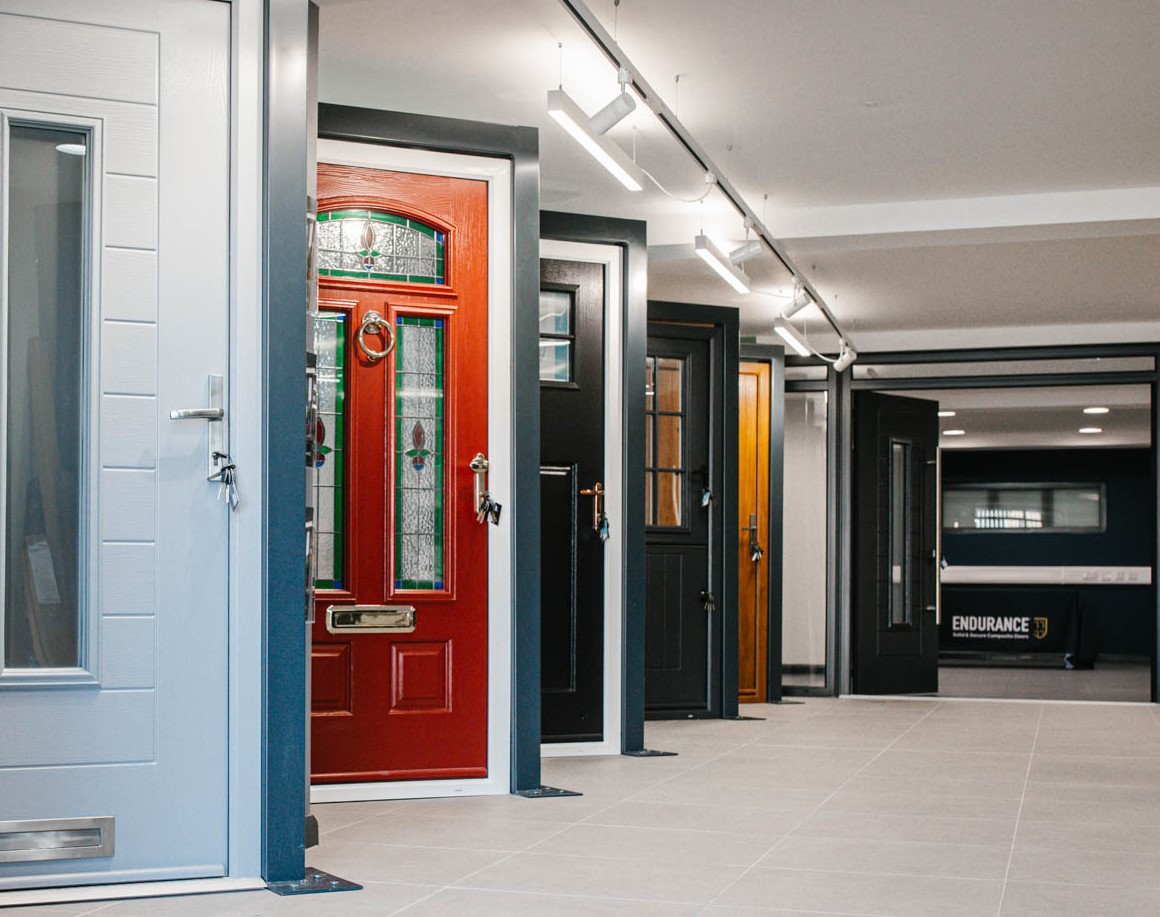 Our showroom is situated in Brigg, North Lincolnshire. It was opened by 90's TV star and friend-of-Endurance ex-Gladiator Hunter, but while it was a very memorable day, it was just the start. It allowed us to showcase our products in person and cement our position as the UK's premier composite door experts. It's also a great way for the public to see our composite doors up close. Yes, we love our online door designer, but you can't run your fingers along the textured surfaces or feel the weight of a door through a computer screen.
When we first opened the showroom, it featured seven stunning doors; two from each of the Classic, Country and Urban Collections, and one from then-newcomers Avantal, which generated a lot of interest from visitors. These were placed alongside wall-mounted hardware boards, a selection of colour swatches and an interactive digital screen to help design your perfect door. We've rotated the doors on display since then so even if you've already visited us, there's no guarantee that you'll see the same doors if you decide to return. 
In the past twelve months, the show centre has given us plenty to think about. It enabled us to connect with our customers directly and discuss their needs, providing valuable insights and allowing us to evaluate our strategies on an individual basis. We've demonstrated how locking mechanisms work and shown people various glazing choices. Plus, we let our customers take as many pictures as they like, which can really help with the decision-making further down the line. 
The shopping world might be moving increasingly online, but there's still a lot to be said about having a physical location that people can attend in person. We've had visitors from as far afield as St. Albans and it's helped us to create beautiful bespoke doors with a personal touch. After all, discussing all the information with a living, breathing human being can sometimes be preferable to filling in a form that you've received via email.
In other words, the showroom has allowed us to focus on the overall customer experience and make buying a new door into a streamlined, positive experience. We've developed new sales and marketing tools for our Installer Partners, broadened our horizons and it's provided us a space to launch fresh products and activities. 
For further information, we highly recommend visiting the showroom or contacting us. Whether you're looking for fresh inspiration, or you've got a head full of ideas that you want to bring to life, get in touch with Endurance and let's see what we can do.