It's October, which means the nights are getting longer and the safety of your home becomes more and more of a priority to homeowners across the UK. That's why this time of year also marks National Home Security Month. This activity is an important way to raise awareness about some of the security issues that properties can have – which potential intruders are more than able to exploit if given the chance.
At Endurance Doors, security is a priority for our composite doors when it comes to both design and installation. With a solid timber core, layers of engineered timber and fitted with advanced locking mechanisms, our doors are thicker, tougher and more resilient than most others on the market to give you peace of mind.
When you design your dream composite door from Endurance, you'll have a wide range of colours, hardware and furniture options to choose from. As you're crafting your bespoke aesthetic, you can rest assured that whatever look you opt for, you'll be safe and sound behind a secure composite door that's built to last and to keep unwanted intruders at bay.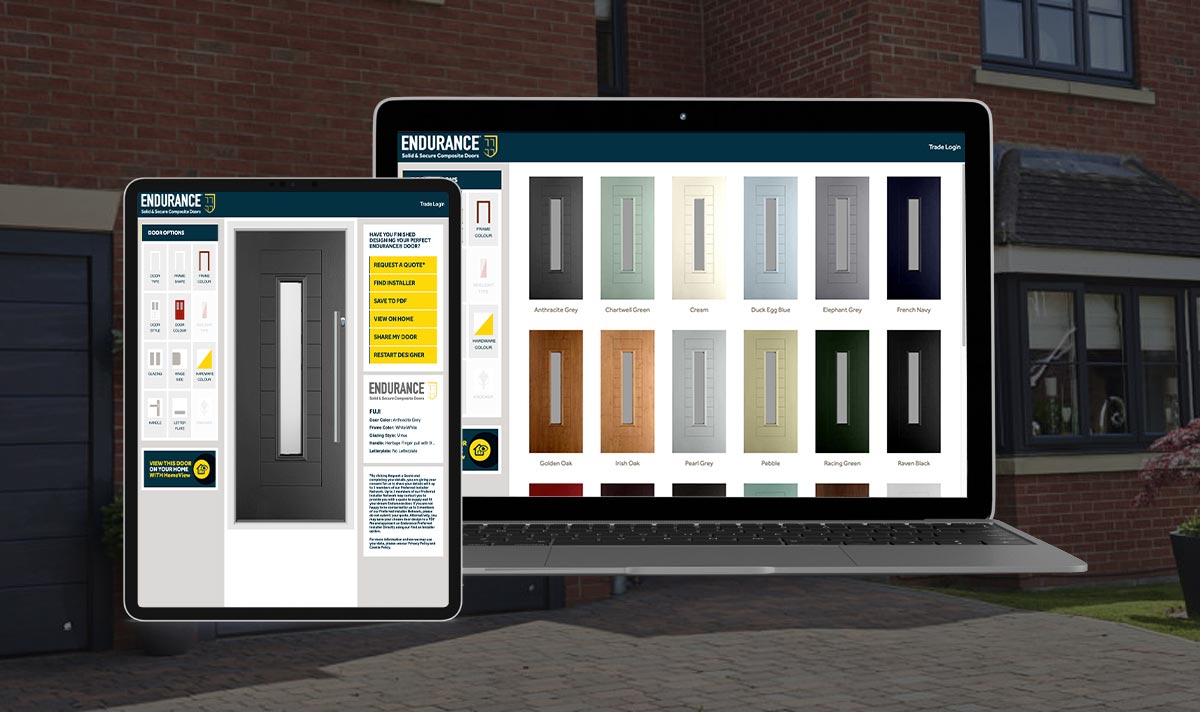 One way an Endurance composite door keeps you safe is with the Ultimate Cylinder. This state of the art security solution is specifically engineered to resist the most prevalent methods of attack, with anti-pick, anti-drill and anti-bump measures in place to stop potential intruders in their tracks. In fact, we're sure confident in the performance of the Ultimate Cylinder that in the unlikely event it fails, you'll benefit from our £2,000 security guarantee.
In addition to the secure hardware, the profile of an Endurance door itself will keep you safe. At 48mm thick, the solid timber core is 10% thicker than most others on the market, and with 17 layers of engineered timber combined with durable uPVC, it's an exceptional standard that's impressively difficult to break through. It's even sledgehammer-proof, as our hands-on test with the help of a genuine Gladiator attests to. Far stronger than single material doors, you'll be safe behind a composite door.
This National Home Security Month, it's worth taking the time to understand if your home is as secure as it can be and if your loved ones are as safe as they should be. Take a look at your front door, back door or any other means that a would-be intruder might be able to exploit to gain entry to your home. Identify any weaknesses and make a sensible investment to stop them in their tracks.
There's so much that an Endurance composite door can do for you and your door. With a bespoke design, you can catch the eye of passers-by and impress your friends and family as you welcome them inside. In the event that you receive some more unwelcome attention, you'll be protected behind a resilient (yet stylish) barrier.
Design your dream door today with our online door designer tool. Choose the style, colour and hardware options – plus many more customisation options to make it truly your own. No matter how your new composite door looks, rest assured that it will keep you and your loved ones safe and sound this National Home Security Month and for many years to come.