In these darker and colder months, we can all sometimes feel like we're not quite performing at our very best. The days are getting shorter, the nights are getting longer, and the relaxing days of summer seem like a distant memory. However, this is where the Endurance composite door really comes into its own, providing year-round exceptional performance will not let you down, no matter how dark or cold it may be.
While you can settle in on the sofa, turn up the thermostat and wrap up warm with a blanket in front of the fire, your front door won't be afforded the same luxury. As your composite door stands guard at the front of your property, its exterior is subjected to the cold, the wind and the rain throughout winter. Meanwhile, internally, your door experiences sharp shifts in temperature as your heating soars to settle those cold snaps.
Endurance composite doors feature meticulously crafted materials and are expertly installed to ensure they are able to handle the shocks they are subjected to in summer and winter alike. Unlike lesser doors on the market, ours will not warp or bow. When you invest in our doors, you're choosing the finest products around, certain to impress and perform highly for you.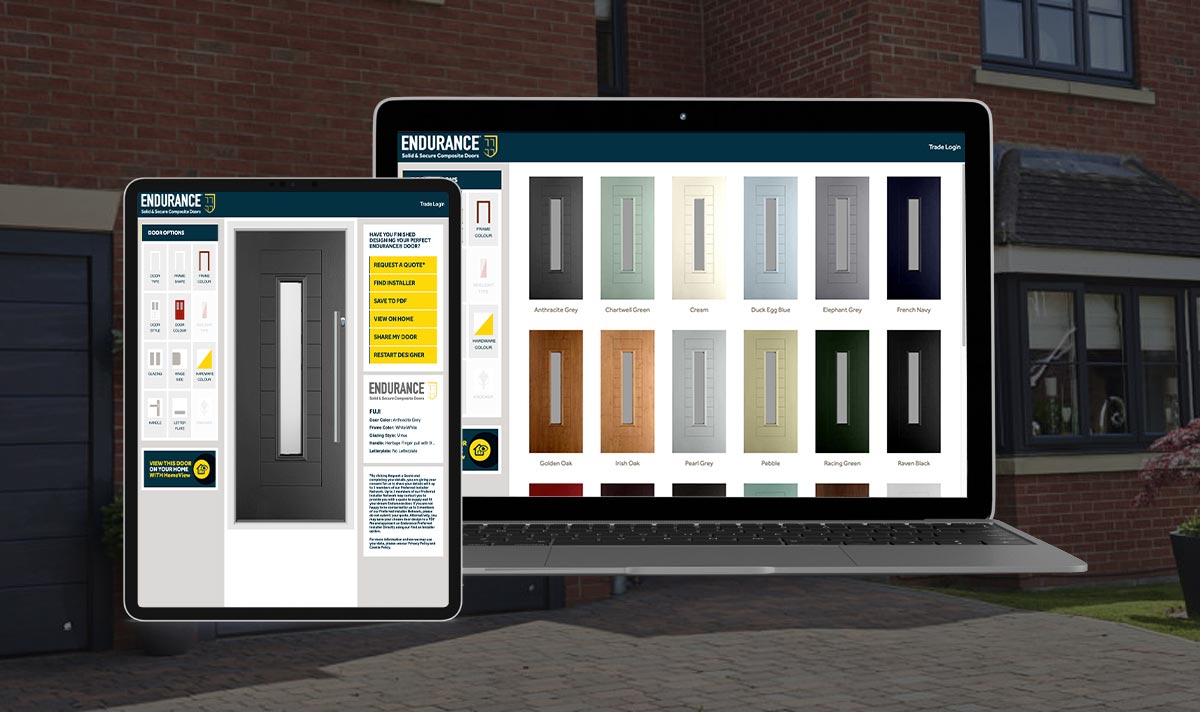 Our composite doors are manufactured to resist the cold without compromising on their elegant style, so they look their best all year round. Endurance doors are renowned for their solid timber core, 48mm thick and 10% thicker than most others on the market. This means they'll provide the strength and durability you can rely on to keep your home looking its best. For all elements of door design and performance, we don't accept anything less than the best. Some manufacturers will let a composite door bow by 10mm or more before admitting a problem and agreeing to rectify it. At Endurance, we'll resolve the issue in the unlikely event that even a minute 3mm bow occurs.
It's massively important than your front door doesn't warp or bow under pressure. If yours does, you could struggle to lock it easily or even at all. Since you've invested in a composite door for safety, why would you want to compromise it in this way? Any weakness can be exploited by potential intruders, and an ill-fitting door that is no longer flush within its frame is a security issue that, if you choose Endurance, you will simply be able to avoid entirely. What's more, when you're cold and wet from a walk home in the rain, the last thing you'll want to do is spend ages struggling to open a faulty front door.
At Endurance, we take the outstanding quality of our composite doors seriously, because know how important it is to you and your home. We're always working to research the latest products available and keep up with any developments in the industry. This ensures our doors overcome any issues faced by lesser installations for superior results.
Confidently create your composite door, safe in the knowledge that its aesthetics and performance will not suffer at the hands of the elements. Our doors shine and are sure to impress in summer and winter, making them a true home improvement for you.
Endurance doors bow to no one, standing head and shoulders above the competition on the market. Find out exactly what sets our composite doors apart and how you can improve your home in time for winter when you design your door with us today.