As the nights start to get darker and winter takes hold, we all want to hurry home and snuggle in to shelter from the cold. Once you're inside, you need to make sure that your living space is totally secure to keep you and your loved ones safe and sound.
This October, it's National Home Security Month (NHSM). This organisation is committed to raising awareness of the important ways to protect your family with advice and recommendations to improve the safety of your home. NHSM understand how devastating a break-in can be, so they're helping homeowners to become aware of the ways in which they can prepare their home to prevent this where possible.
At Endurance, this is something we feel passionate about as well. Our composite doors are designed, refined and manufactured in such a way as to protect against forced entry attempts much better than others on the market. We want you and your loved ones to enjoy total peace of mind, which is why we'll work closely with you to recommend the best ways to keep your home protected.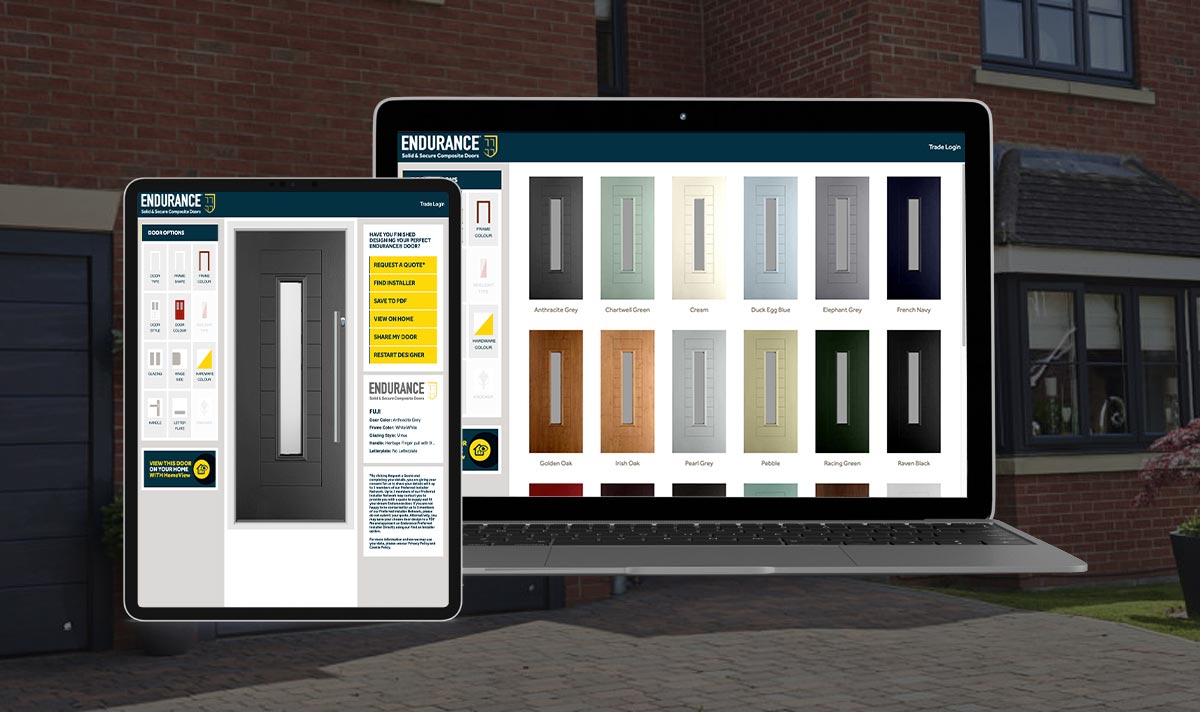 There are many important aspects that make an Endurance composite door stand head and shoulders above the competition when it comes to security for your property. Our doors are accredited with Secured by Design, which means they have been rigorously tested as part of a UK Police initiative to resist the latest and more prevalent forced entry attempts. They are proven to keep you safe. Every precision-engineered element of our composite doors has been put through its paces, from the locking cylinder and hinges to the frame and door itself. We won't compromise on any part of your door.
Endurance composite doors are inherently strong, even before the addition of their cutting-edge and high-performance hardware. Our doors feature a 48mm solid timber core. This is 10% thicker than others on the market, putting a tough and resilient barrier between you and the outside world. What's more, we now provide the state-of-the-art ABS Ultimate locking cylinder for our composite doors as standard. It features pins that provide protection against bumping, drilling and picking, and in the unlikely event that this lock fails, you'll benefit from our £2,000 security guarantee.
An Endurance composite door is the perfect installation for homeowners looking to maximise the security of their property. Our Installer Partners prioritise safety and will work to deliver total peace of mind when fitting your new door. You'll enjoy a resilient and durable physical barrier to keep you and your loved ones safe from any unwanted intruders.
If you're waiting for your new composite door to be installed, or if you're wondering whether you can do more to protect your home, there are some more recommendations you may want to take into consideration that both our team at Endurance and the experts at NHSM would suggest.
Since your composite door is so secure, don't make it easy for any burglars or create a flaw for them to exploit – keep any keys on your person at all times, not hidden under doormats or plant pots. If you need to leave a key on-site, consider a wall-mounted strongbox with a keypad. Also, always remember to lock your door, even when you're at home, and tell any visitors to double-check that the door is locked as well. While this advice may seem simple, it is nonetheless highly effective. Unfortunately, it's often overlooked, making it all too easy for burglars to exploit any and all oversights.
When you choose an Endurance composite door, you're choosing to invest in one of the highest security home improvements on the market. This National Home Security Month, ensure your protected is protected and able to resist any burglars and unwanted intruders. Keep you and your loved ones safe and sound when you design your door with us today.