Summer's here and the time is right – for improving your home! As the warmer weather approaches (or so we're always promised) sometimes your renovation plans can take a backseat. After all, while the sun is shining and you have the chance to enjoy the fresh air, sometimes the last thing you want to do is come home, close the door and shut yourself away inside.
But here at Endurance Doors, we're passionate about home improvements all year round, whatever the weather. And in fact, summer can really be considered the perfect time to improve your home. If you're welcoming friends and family over for a BBQ, greet them in style with a gorgeous new front door. And if you're spending more time out of the house, make sure it's as secure as it needs to be while you're not home with a strong and robust door that will keep potential intruders at bay.
Make this summer the season for improving your home with a brand new composite door. Whether your aesthetic is Classic, Urban or Country (or something completely unique) we've got the range that's right for you. Use our online door designer to create your own bespoke look that's ideal for summer – and spring, autumn and winter too.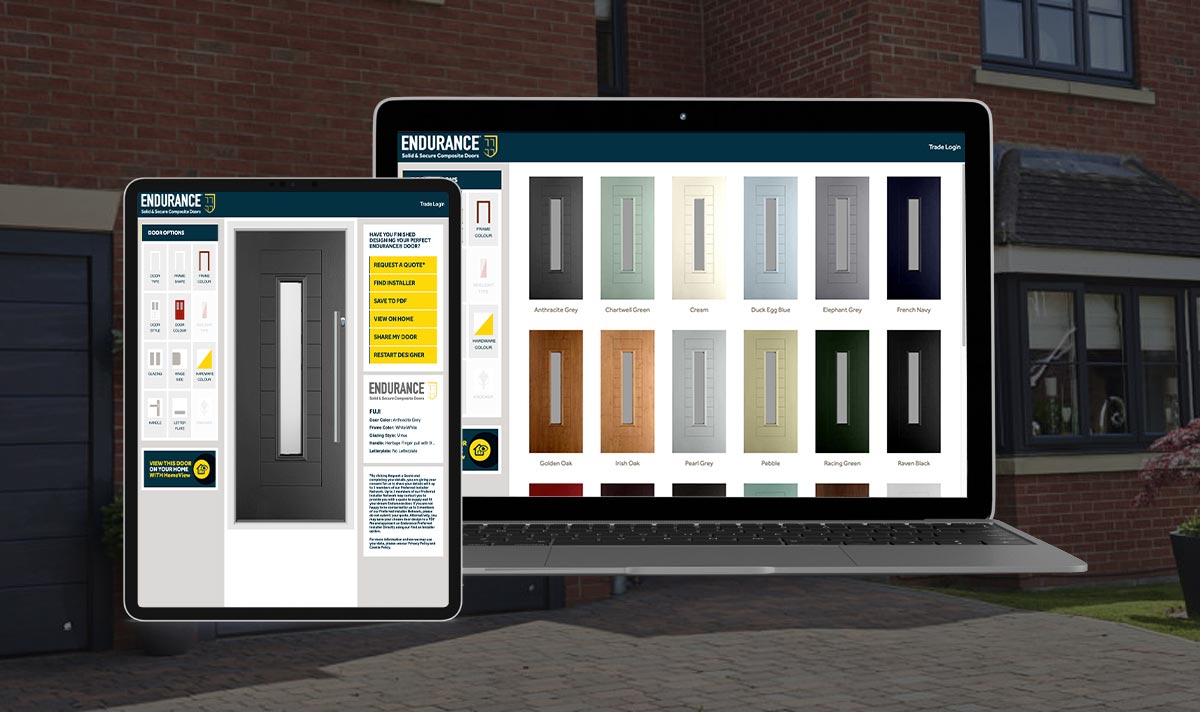 One of the main benefits of a new front or back door is the renewed style you get. Boosting kerb appeal is a great way to make your property stand out, whether you want to impress friends and family who are coming to visit, or neighbours and passers-by who can look over at your home admiringly. In the bright glow of summer, your home will look even more appealing. And with longer days, you can show off your new and improved house even more, so you want to make sure it's looking its best. Don't wait for your tired-looking doors to be hidden in the dark of winter; make a stand-out design that the sun can shine on and you can show off proudly.
Composite doors are also renowned for their security features. While many people think intruders will only operate under the cover of darkness, that isn't necessarily the case. In the summer months, people are often outside for longer, leaving their homes unprotected. Without a secure front door to stand in a burglar's way, your hard-earned possessions and valuables can be easy pickings for a potential break-in. Composite doors, particularly those from Endurance Doors, are safer, stronger and more secure than others on the market, meaning your home can stay protected against the most prevalent forced entry attempts, whatever the weather.
If your front or back door is letting you down, don't delay in your plans to replace it. When winter comes around all too quickly, you'll be glad that you made the most of the dry, bright days of summer to renovate your property, so it's more stylish and safer when the dark nights start creeping in.
It's a smart financial investment too. A new front door will offer improved thermal efficiency, keeping the heat in for longer during the colder months, so you can pre-empt and prevent those heating bill hikes in a few months' time. While Christmas might seem like a long time away for now, it'll be here before you know it, and you'll be grateful that you started saving for it and replacing your front door when you did.
If you're ready to replace your front or back door this summer, look no further than Endurance Doors. Our online door designer makes it easy to create your dream composite door down to the finest details. From the style and colour to the hardware and glazing, the choices are yours and as endless as we all wish summer would be.