It's time for another Endurance Doors case study, and we have the perfect one for the start of spring. Mansfield resident Rebecca was looking for a classic design to replace her existing front door. It was eighteen years old and showing its age, so she was very keen to get something new.
Rebecca was a big fan of our online door designer and used it to create her project from scratch. She wanted something that would fill her house with light and make it feel warm and airy, and as you can see from the photos, she's done just that. 
She went with an Algas composite door from our country collection. She loved the refined, rustic vibe and the lined surface gave it a very satisfying touch. The wide glazing area was attractive too, and let in plenty of sunlight. Rebecca wanted to maintain her family's privacy, so the virtue glass was a natural choice. It allowed her to bathe her home in warmth without letting passers-by look into the property. It worked so well that when Rebecca and her husband got up the day after we installed the door, they thought they'd left the hallway light on.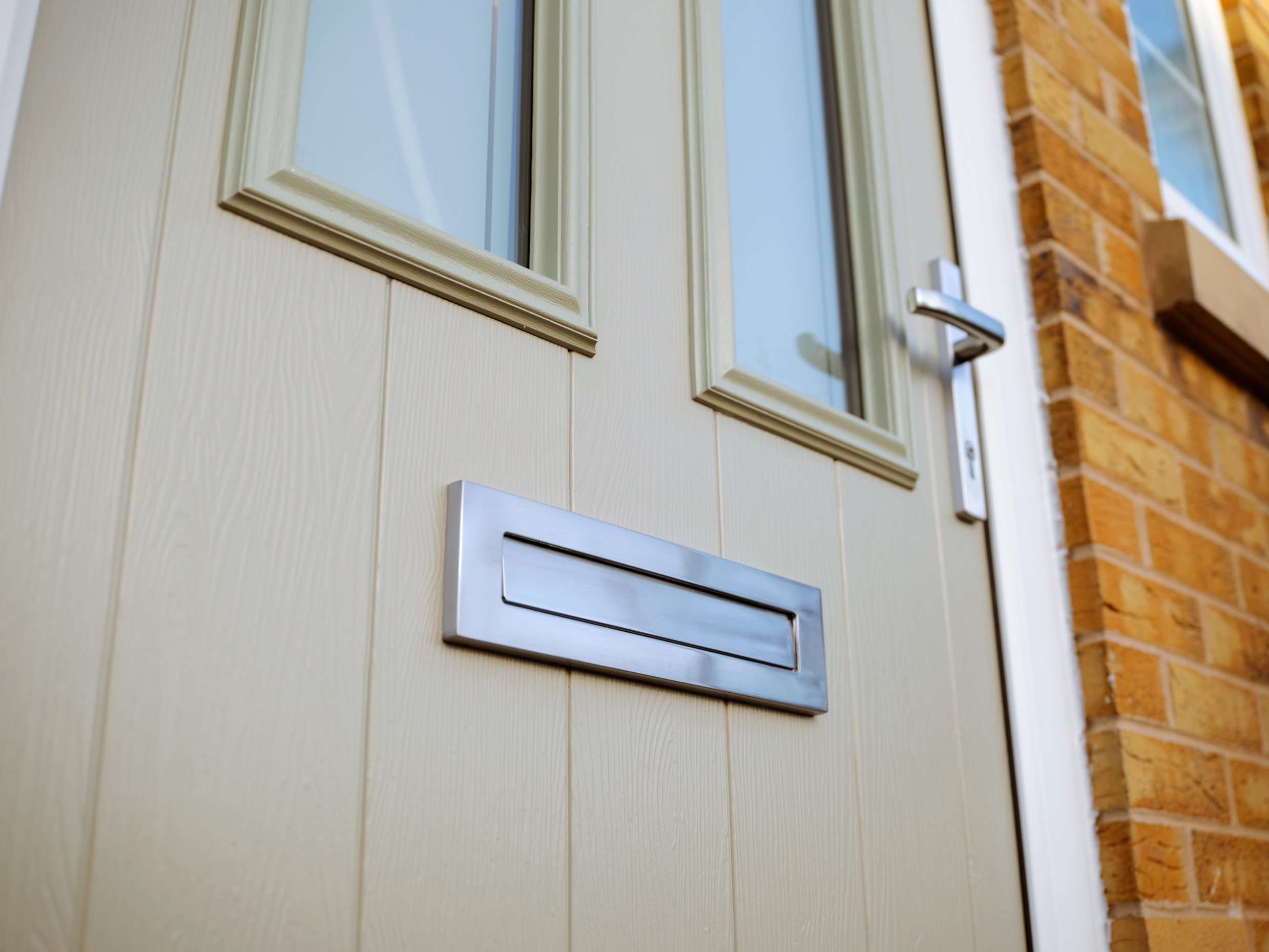 Arguably, the defining part of Rebecca's new door is the colour. She opted for a delightful and refreshing sage, which we've noticed is becoming increasingly popular. It's a versatile colour that subtly enhances the front of her house, the light grey tone complimenting the brickwork and making it stand out. Historically, anthracite grey has been our most in-demand colour, but we're starting to think that sage might overtake it this year.
For the finishing touches, Rebecca went for some graphite architectural hardware. The shiny metal sits comfortably on the sage backdrop, lending an air of sophistication and modernity to the rural look. She went for a delightful, waist-high letter plate and a slimline urn knocker. Lastly, the graphite handle has a weight that makes it feel secure and reliable. Plus, it was at the perfect height for her three children to use and easily access the home.
Rebecca's friends, family and visitors have showered her with compliments upon seeing the new door. It's left a lasting impression on everyone that walks up the driveway and we think a few of them may have even contacted us. We've certainly picked up a few calls asking about sage doors since we finished working with Rebecca. 
Here at Endurance Doors, we pride ourselves on the quality of our work. Rebecca was a joy to collaborate with and we couldn't be more pleased with the finished door. But it's not just attractive, it's tough. It's a resilient and secure addition to her home, and we're confident it will last a lot longer than the door it replaced. 
If you've been inspired by Rebecca's design, why not start your project today? You can use our online door designer to create a unique composite door from the comfort of your home. The intuitive interface is easy to use and you'll be able to choose everything from the colour to the door handle. Give it a try and see what you can create.