In the charming market town of Belper, nestled deep within the picturesque Peak District, on a suburban street with a row of terraced houses, one home proudly stands out from the rest. Boasting an eye-catching red front door, it draws the attention of passers-by which makes happy homeowner Katy even more thrilled with her renovation project.
Before Katy even moved into her new home, she put her improvement plans into motion. "The first thing we did," she tells us, "was to change the door and windows." She knows how important it is to put her own stamp on the house, and with her Instagram followers keeping a close eye on her progress via her aptly named @xmyredfrontdoorx account, she needed to make sure she made the right decisions.
Following an online search for the best front doors on the market, Katy arrived at the Endurance Doors website. She was drawn in by our functionality to design your door online, as well as the wealth of customisation options available during the process. In our latest case study, we shine a spotlight on a recent project wherein Katy chose one of our most popular door styles in a striking colour that's perfect for her.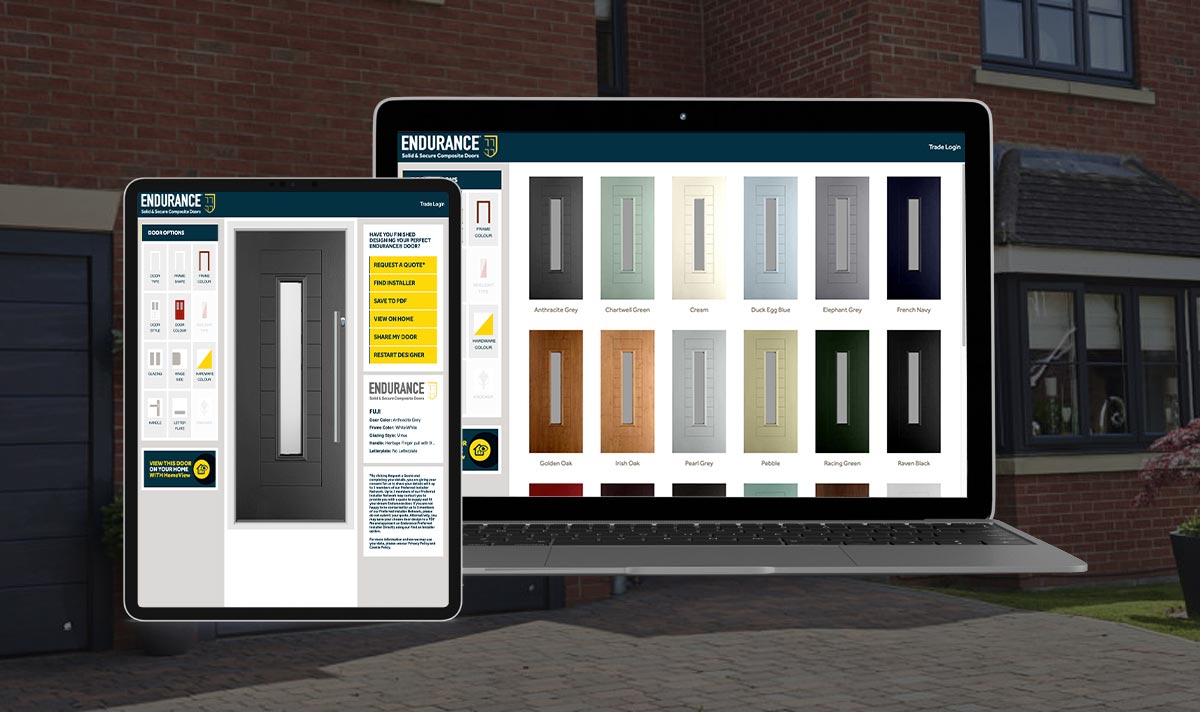 Katy chose the Ben Nevis composite door style from our Classic Collection. This range includes timeless designs originally inspired by the Georgian and Victorian eras, which remain as popular now as they were then. This is therefore ideally suited for Katy's 1900s home. Combining modern and traditional, the Classic Collection is perfect for all kinds of properties, and it sits neatly alongside our Urban and Country Collections as you too search for the right fit for your home. Enjoy a wealth of customisable options and endless possibilities.
With 18 gorgeous colours to choose from in the Classic Collection, Katy was truly spoilt for choice. She opted for Rich Red, which is a striking and engaging colour to help her home stand out on her street and look entirely unique to suit her tastes. And what could bee the perfect finishing touch? That's right – our striking Gold Bee Knocker was one of the hardware options Katy chose, alongside a Gold Lever Handle and Heritage Letterplate. In fact, it was one of the many reasons why she decided to go with Endurance for her new front door in the first place.
Once Katy's composite door design was in place, she could get her installation plans started as she moved in to her new home. She explains, "Endurance put me in contact with a few local installers." Our Installer Partners across the UK were on-hand to install, advise and make the whole process as seamless as possible. What's more, her chosen composite door installers even fitted two new windows at the same time, so she was able to complete the look and achieve the home of her dreams more easily than ever.
Katy has enjoyed plenty of positive feedback about her new door, both online and in real life. "Everyone really loves my door," she smiles. "I've had lots of really lovely comments." As it turns out, this red door was exactly what was needed to make her neighbours green with envy. Katy can see passers-by do a double-take of her home's exterior, as she watches from inside her home, safe and sound behind her solid composite door.
Red alert! Our new case study has landed on our website. Take a look at Katy's project and find some inspiration for your upcoming home renovation project. Whether you're looking for beautiful cosmetic improvements, thermal efficiency enhancements or advanced security features, you will find it all and more with Endurance Doors. Feel inspired by Katy's home transformation and design your dream door with us today.