Our Avantal collection is a great way to make a statement with your front door. These ultra-modern new doors have been designed to create a sleek and stylish entranceway. The Avantal range is one of the most sophisticated, contemporary doors on the market and will instantly transform your home into a cutting-edge living space. 
The smooth feel of industrial-grade metal inspired these doors. The expert designers wanted to create a door with all the benefits of high-quality aluminium but at a far more reasonable price for homeowners, and they've succeeded admirably. The Avantal collection could easily be mistaken for solid aluminium doors, and we are extremely proud to offer them. So, if you're looking for one of the best composite doors on the market, your search is over. 
We have five unique styles available, a selection of hardware and multiple glazing designs. Each door can be made to your specifications, and we'll help you create one that is as individual as you are.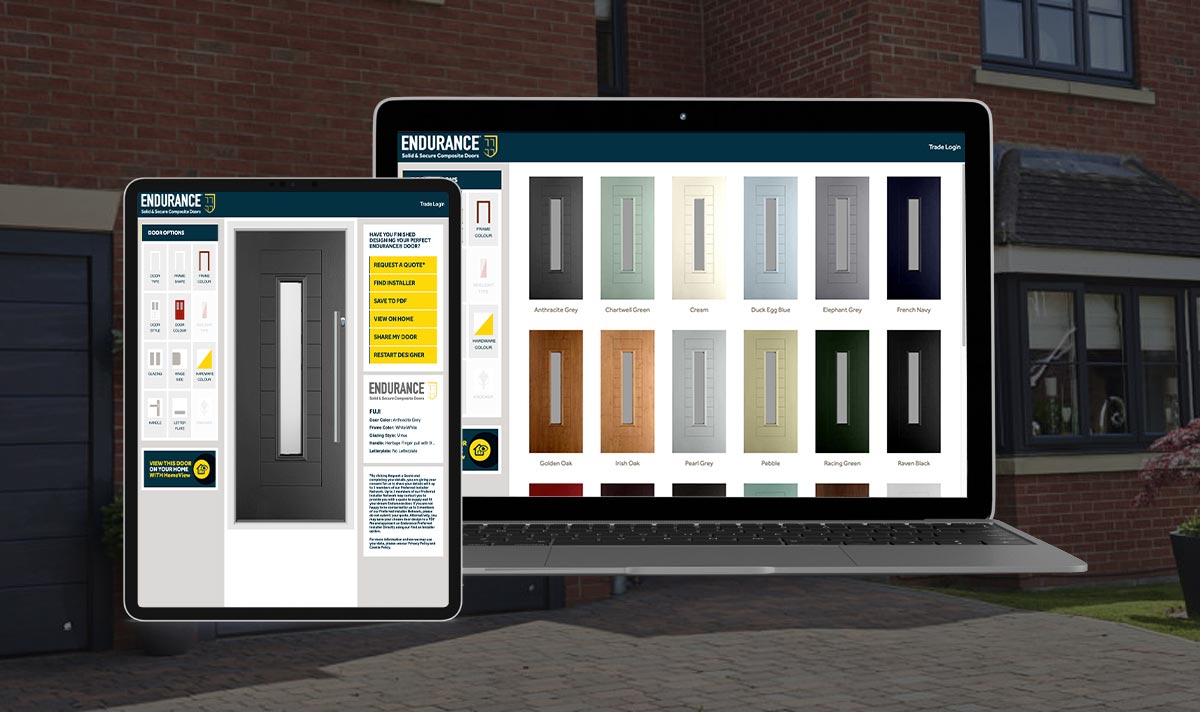 Run your fingers over the surface, and you'll notice a burnished texture identical to solid aluminium. These doors pair remarkably well with darker colour schemes and look terrific in black or grey. For example, a Vega door in black has remarkable visual appeal. Add some contemporary chrome hardware (like a pull handle and letter plate) and a simplistic glazing design, and you'll have a door that looks like it was sent from the future to enhance your home.
Avantal doors don't just look good. There's more to them than simple aesthetics; we mean it when we say they're some of the best doors out there. They're built around a solid timber core and are thermally efficient. Your home will retain heat better, and your bills and carbon footprint will drop as you use your radiators less. Plus, they're cheaper than solid aluminium doors. This will be especially important these days; the cost of living crisis is affecting homeowners across the UK, so the chance to spend less and get great results has never been more vital.
Lastly, they're incredibly safe. These doors are remarkably strong and sturdy, so they can resist unwanted intruders and severe weather alike. If a storm is raging outside, you can rest safely knowing that your Avantal composite door will stop it from getting in. And as for attempted break-ins? Our doors are strong enough to withstand sledgehammers, so no one's going to knock their way through them in a hurry. 
The locks aren't a weak point either. Our Avantal collection comes equipped with a Diamond Grade ABS Ultimate locking cylinder as standard. We're so confident in them that we offer all our customers a £2000 security guarantee. If your home gets broken into, it won't be through the door. 
If you have any questions about our Avantal range, feel free to contact us. You can email us at marketing@endurancedoors.co.uk or call 01652 659259. Our expert staff are happy to talk and answer all your queries. 
If you can't wait to start styling your new door, head over to our online door designer! You'll be able to choose every detail of the door, so why not see what you can create?