Chartwell and Racing Green aren't the only doors from Endurance that are some of the "greenest" around. In fact, we've put into place a series of sustainable measures at every step of our process, from manufacturing to delivery for all our composite doors. Recycling is now at the centre of our business cycle, and sustainability sustains us. As a wise person once said, it's not easy being green – but it's certainly worth the hard work for all of us at Endurance Doors.
We know that living in an environmentally friendly way is increasingly important to all kinds of people right across the world, so it's just as important to us as a company too. That's why we have a number of core environmental values that we follow in our factories and offices on a daily basis. We've been recognised by leading environmental accreditors, and we're proud to share our practices with you.
After almost 30 years of manufacturing the finest composite doors on the market, we've seen many changes across the industry – from the popular trends and colours to the ways in which our doors are designed and manufactured. And unfortunately, we've also seen the planet change around us. As climate change continues to show its effects, we've taken a stand and are proud of the measures we've put into place.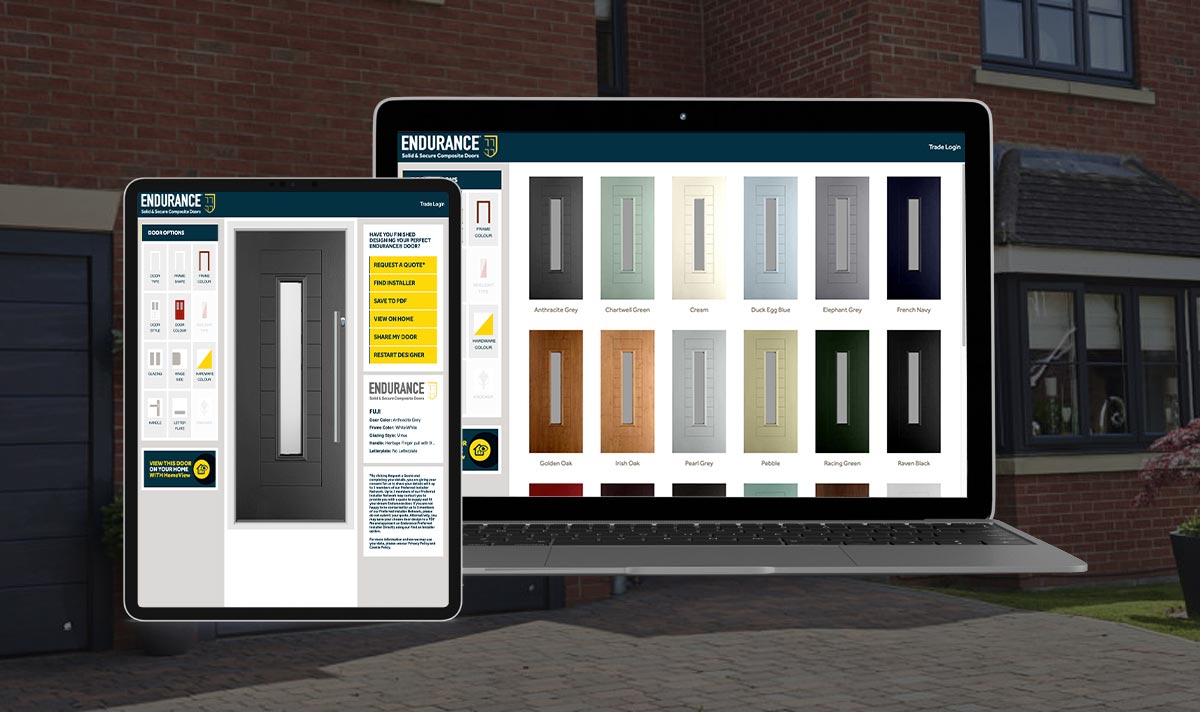 Mighty trees from little acorns grow – both literally and figuratively. Some of the ways in which we're working "greener" include carefully reviewing our day to day working systems to minimise wastage and maximise awareness wherever possible. Additionally, as well as sourcing our timber from socially and ecologically sustainable forests, we make sure to give back and plant a tree for every two doors we create.
Our composite doors are delivered in the most fuel-conscious way possible following a close review of our transport schedules. We want to reassure everyone that you can do your bit too. No matter how insignificant it may seem, the smallest actions can make the biggest difference.
As our MD Stephen Nadin says, "It might be down to individual companies, but my hope is that a collective body may well help achieve this on a greater scale." At Endurance Doors, we're proud to be doing our part. But a huge factor in environmental awareness is acknowledging that we are all part of something bigger. We've led the way and forged ahead for many years in the composite door industry, and we've seen many people follow us. We hope to see the same thing happen now and encourage our fellow manufacturers to join our eco-conscious consciousness.
Whether others on the market follow our lead or not, we vow to uphold our new standards of environmental awareness and do what we can, whenever we can, to make a difference – that's our "green promise" from all of us to all of you. If you're looking to improve your home in every way and work with an environmentally-conscious, eco-friendly composite door manufacturer, look no further than Endurance Doors.
Design your dream composite door today using our online door builder. You can choose the perfect colour, style and hardware accessories to suit you. Whichever configuration you select, you'll get an expertly manufactured door that's made with certified, trackable materials in a process where zero per cent is sent to landfill -with us, nothing goes to waste. Let's work together for a brighter, greener future.