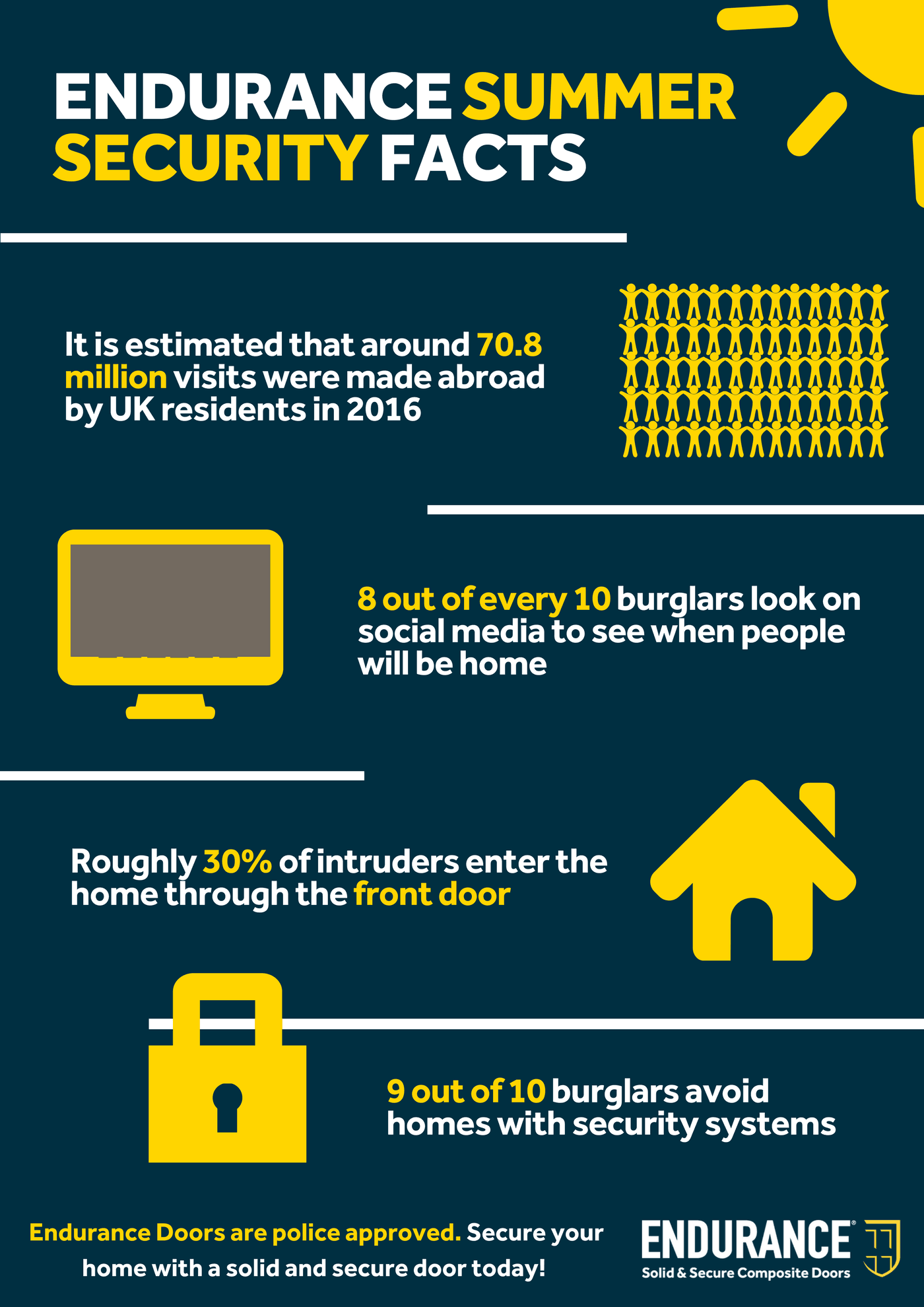 With the summer months upon us it creates an exciting buzz amongst millions of households as we look forward to enjoying a bit of sunshine. Whether this means jetting abroad, enjoying a staycation or simply relaxing at home, it's important to always protect your home, even when you're at home!
Traditionally the summer months see a rise in burglaries as intruders take advantage of properties being unattended for long periods of time and homeowners leaving windows and doors open to let the breeze in. Unfortunately burglaries are still very common but there are simple steps that you can take to ensure that your home and belongings are as secure as they can be.
Check out our handy guide and tips on how you can have a worry-free summer by protecting your home all year round.
Always close and lock windows when you're not in the room. If you want to keep them open to let some air in then think about installing restrictors that can't be opened wide enough for somebody to climb through.
Make sure to keep your keys out of reach from a letterbox, window or cat flap.
It might be hard to hide away large objects such as TVs or stereo systems but ensure that attractive items like laptops, mobile phones and tablets are hidden away from view.
If you'll be away for an extended period of time, think about investing in a timer switch so lights can turn on and off even when you're not in.
Keep garden tools locked securely away.
Avoid leaving spare keys in cliche hiding places. Intruders will know where to look.
Ask a trusted neighbour, family or friend to regularly check up on your home.
If you have a burglar alarm, ensure it works and is activated whilst your away. 9 out of 10 burglars will avoid a home with an alarm system!
8 out of every 10 intruders will look on social media to find out when people are away!
Always be careful when posting on social media. Ensure that your viewing settings are on private so that only trusted friends and family members can view your page. Letting people who you don't know see that you are away, may increase your risk of becoming a victim of burglary.
Did you know that around 30% of intruders enter the home through the front door?
Not only should you be checking to ensure that your windows and doors are locked, even if you're in another room or out in the garden, you should also be ensuring that your doors security is up to date! Endurance Doors are renowned for their strength and stability, whilst still allowing you to express your own personal style.
With a 48mm thick cross-bonded veneered laminated core, Endurance composite doors are 10% thicker than your average door. Delivering unrivalled dimensional stability it not only means that it is the most secure door on the market but with also eliminates the possibility of warping over time to protect home and families throughout the years.
Endurance Doors have been subjected to a number of controlled security tests to replicate the most common forms of burglary. Even using a sledgehammer couldn't puncture a hole through the inner core! In addition to this, durability has also been tested against opening, closing and unlocking cycles, which can typically occur around 50,000 times during a doors life cycle.
When thinking about the security of your household, Endurance Doors has you covered. With a wide variety of locking systems available there is one to suit everyone. One of our favourites for the security-conscious is our AV2 slam shut lock.
The AV2 slam shut is a popular choice amongst many customers as it eliminates the need to lift the handle in order to engage the lock, lowering the risk of tail-gating or somebody entering the property immediately behind you. This mechanical lock automatically operates when the door is shut by engaging two solid anti-pushback hooks to give you the ultimate peace of mind. No more 'leaving the door on the latch' which runs a higher risk of an intruder entering the home. Entry can be gained from the external side with the use of a key whilst a thumb turn is used to operate the door from the internal side.
With the AV2 lock comes a variety of features available for your door to not only enhance the security of your home but to also add a touch of your own personal style. From the traditional to the modern, there is something to suit everyone.
The sleek appearance of our stainless steel pull handles may appeal to the homeowner looking to add a modern touch to their home. Available in three different sizes and supplied with a matching internal pull knob and escutcheon, it is a perfect choice for the style conscious.
Looking for something more traditional? Our Heritage lock combines the appearance of a Georgian or Edwardian facade by bringing a touch of class to the household. Available in chrome, black, gold and silver with a thumbturn on the internal side it creates a simple yet striking appearance.
Endurance Doors are police approved!
You won't need to let security play on your mind again with our Secured by Design upgrade that has been designed, tested and achieved the PAS 24 2016 standards approved by the UK Police flagship initiative. With our upgrade to an ABS Ultimate Locking Cylinder and laminated glass,it helps to protect your home from a wide range of hard body and manual attacks whilst supporting the Police principles of 'designing out crime'.
Safety, security and style, it all starts with an Endurance Door.
So whilst we look after the security of your home, why not let your creative juices flow by designing your dream door with our amazing online door designer. Compatible on any device and with an option to view your new door on your own home, it is the perfect design tool.
Or if you're looking for some further inspiration then check out our Pinterest page here, that includes a variety of style and colours to view.
Once you have designed your dream door, find your nearest preferred installer here by entering in your postcode.
Previous Article
Next Article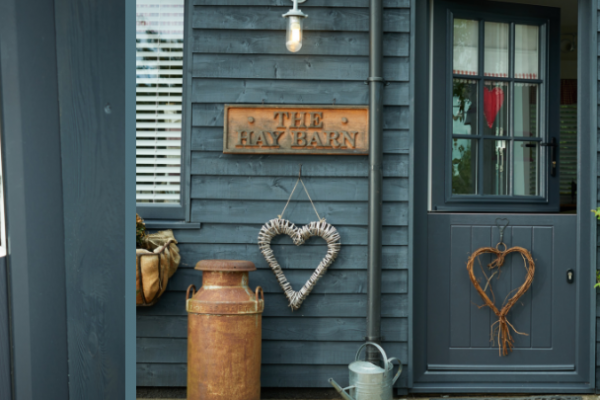 We can all relate to that feeling of home; it's defined by the comfort that comes with a personal touch. However, with homes built to last and ...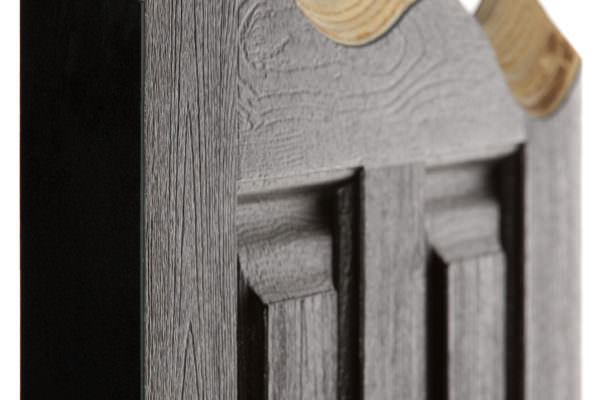 There are many composite door designs across the market, from foam filled to GRP (glass reinforced plastic). Endurance has utilised our 25 years ...