This month, we're once again shining a spotlight on the strength and security of our composite doors. This is always an important consideration for homeowners looking to replace their existing doors, but perhaps even more so now as the days get shorter, the nights get darker, and feeling safe and sound indoors becomes that little bit more difficult.
October marks National Home Security Month – an initiative that started in 2013 and has been providing people with invaluable information about how to improve the security of their months in the decade since, and no doubt for many years to come.
Here at Endurance Doors, we understand that a burglary or a break-in is an incredibly traumatic experience to go through. That's why the best way to try and deal with something like this is to prevent it from happening in the first place. That's where our tough and robust composite doors come in. Here, we've put together a handy guide of preventative measures to give you peace of mind and help you to feel safe at home, protecting yourself, your loved ones and your valuables from any unwanted intruders.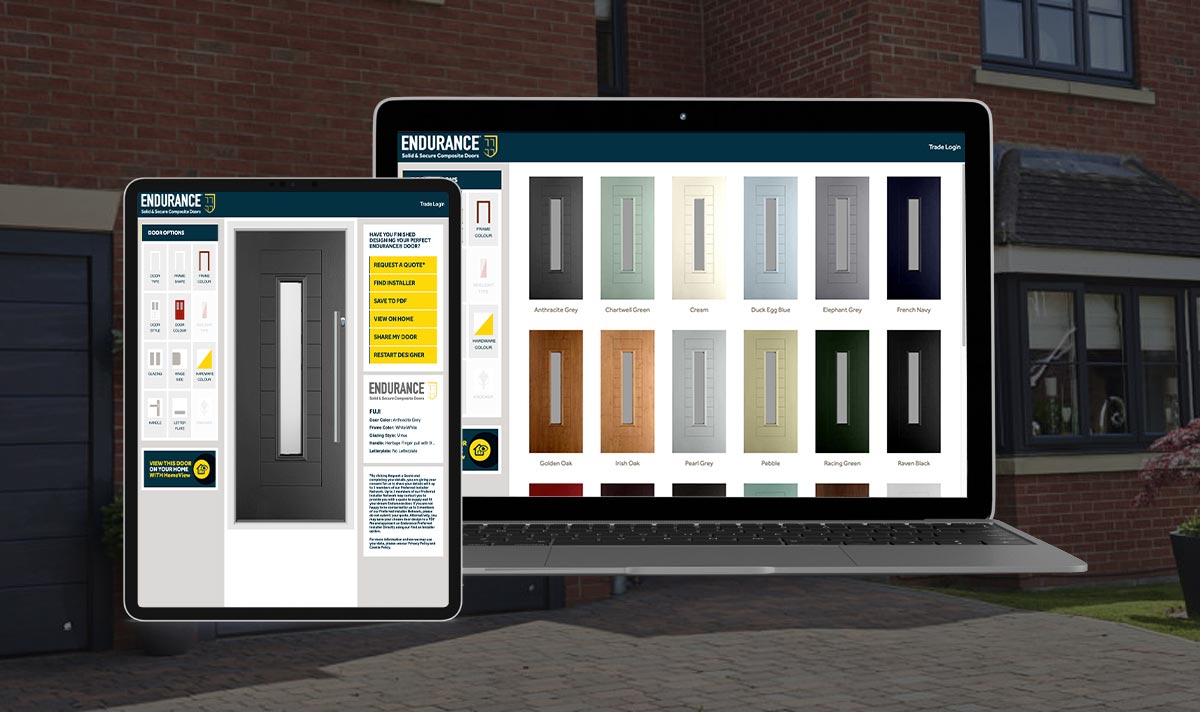 Some methods of keeping your home secure are simple – so simple, in fact, that it makes them all the more easy to forget about. It's these oversights that would-be burglars are ready to exploit, so don't give them the opportunity if you can help it. For example, don't leave keys lying around. While it can be handy to have a spare key under a plant pot, it's the first place many intruders would look. And while you can't be at home to keep an eye out all the time, you could look at investing in a video doorbell – even just the site of one of these can send unwanted visitors scampering away. Thirdly, don't neglect the back of your property. Rear doors often get less attention from homeowners because they aren't seen as much, which makes them the most popular with burglars who face less opposition when trying to break in!
At Endurance Doors, our composite doors combine the highly sought after style with strength and security in abundance. You can design a bespoke front door that looks incredible and protects your home, so you don't have to compromise. Our profiles are 10% thicker than most others on the market, and are proven to be sledgehammer-proof, so they'll resist even the most excessive forced entry attempts. For burglars planning less full-force break-in attempts, the intricate and intelligent locking mechanisms we offer provide anti-pick and anti-snap protection – they're able to detect when someone is trying to force their way in, and they'll raise the defences to keep them out. Compared to single material doors like uPVC or timber, composite doors are strong, secure and durable – ideal for the front and back of your home.
This National Home Security Month, don't leave your home open to any vulnerabilities. If a weakness can be exploited, sadly it's likely that it will. That's why our composite doors are the best solution, combining advanced locking mechanisms with inherent strength and durability.
What's more, there's no need to compromise on the look that you want. With our online door designer, you can choose from a wide range of styles from our four distinct collections – Classic, Urban, Country and Avantal – and customise the style and feel with your choice of hardware and accessories to create something unique that performs excellently across the board.
Start designing your door today and improve your home this National Home Security Month, and every month going forward. Whether it's during these darker nights or in the peak of summer, you'll be glad that you have total peace of mind about the safety and wellbeing of your loved ones and your home for many years to come.