Here at Endurance Doors, we're very proud of our French doors. They're available in various styles, sizes and colours and are suitable for all sorts of large entranceways. French doors are the ideal choice whether you're looking to make a grand and imposing statement at the front of your house or have a subtle transition into your garden. 
But what exactly are French doors? We've been dealing with them for years, however we appreciate that you might not be familiar with the term if you don't work in the building industry. Therefore, we thought we'd take a few moments to explain what French doors are. Where did they come from? What are they used for? And are they even French to begin with?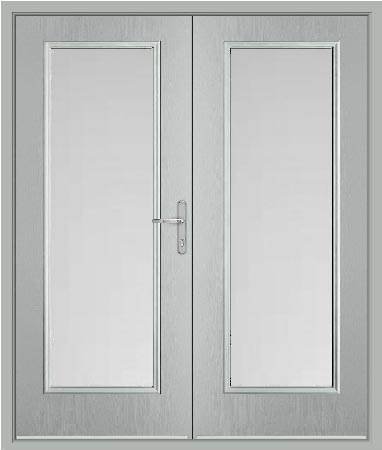 We'll start by answering that last question; no. Despite their name, French doors did not originate in France. They were popularised there and spread across northern Europe because of French architects, but a more historically-accurate name would be 'Italian doors.'
The story begins during the French-Italian wars, a series of armed conflicts that started in 1494 and lasted until the Renaissance period. Large, two-panel windows that could also function as doors were popular in Italy, and when French soldiers returned home, they took the design with them. Their architects made a few tweaks to the original design, converted them into doors, and the French door was born.
The style spread across France and soon crossed into neighbouring countries. French doors were widely used to access balconies, conservatories and patios, and they've remained fashionable ever since. You could argue that 'true' French doors were invented in France and that the Italian version was more of a window than a door, but whatever your opinion, the name 'French doors' has stuck.
Today's French doors have developed since those early years. They consist of two doors side by side, opening outwards to create a welcoming entrance. They also include wide glazing areas and are perfect for letting lots of light into a home. French doors and double doors are similar (the names are sometimes used interchangeably), but as a general rule, French doors have glass, whereas double doors don't.
The technology used to build them has developed as well. The timeless charm of their traditional design has been enhanced with modern qualities, and they're now stronger, safer and more thermally efficient. Our composite French doors are built around a sturdy timber core and are 10% thicker than other doors on the market. They're designed to keep severe weather and unwanted intruders out and save you money on your energy bills. Your house will be cosier, and there'll be less need to keep the central heating on. 
Today's French doors have come a long way, but they retain the effortless charm of the originals. They bring a touch of Mediterranean springtime to your home and make an excellent addition. 
If you're interested in your set of French doors, you can start by clicking our online door designer. You'll be able to modify every part of it, from the hardware to the colour, and create something unique. Alternatively, you're welcome to contact us if you have further questions. You can email us at marketing@endurancedoors.co.uk or call 01652 340340. We're more than happy to talk.