If you want to add some renewed charm to your home, look no further than the Endurance Doors' Classic Collection of composite doors. Inspired by the Victorian and Georgian eras, these traditional designs are popular with homeowners – and for good reason. They pair well with our intricate glass fittings and are versatile, eye-catching and welcoming. When visiting your home, your front door is the first thing people see, so why not make that initial impression a great and long-lasting one?
Consider Karen's project, for example, a beautifully elegant design with subtly effective extras. The Bowmont-style door in Pearl Grey contrasts nicely with the brick frontage of her house, while the Riviera glass lets in plenty of natural light without sacrificing her privacy. The slimline knocker and letterbox provide the finishing touches and give it an understated character. You'll expect a warm and genial greeting if you walk the pathway to Karen's house.
Instagrammer Robyn, on the other hand, had a different challenge. Her existing front door didn't have a particularly cohesive feel with the rest of the house. She wanted a traditional wooden door, but living close to the sea meant that wasn't a practical option. So, she designed a composite door that added a stunning entrance to her home. The lighter colour, gold accessories and McKinley design all helped to give her house that classic British seaside vibe. Her house looks rustic and bright, but she's also safe in the knowledge that the salt in the air won't make the door deteriorate.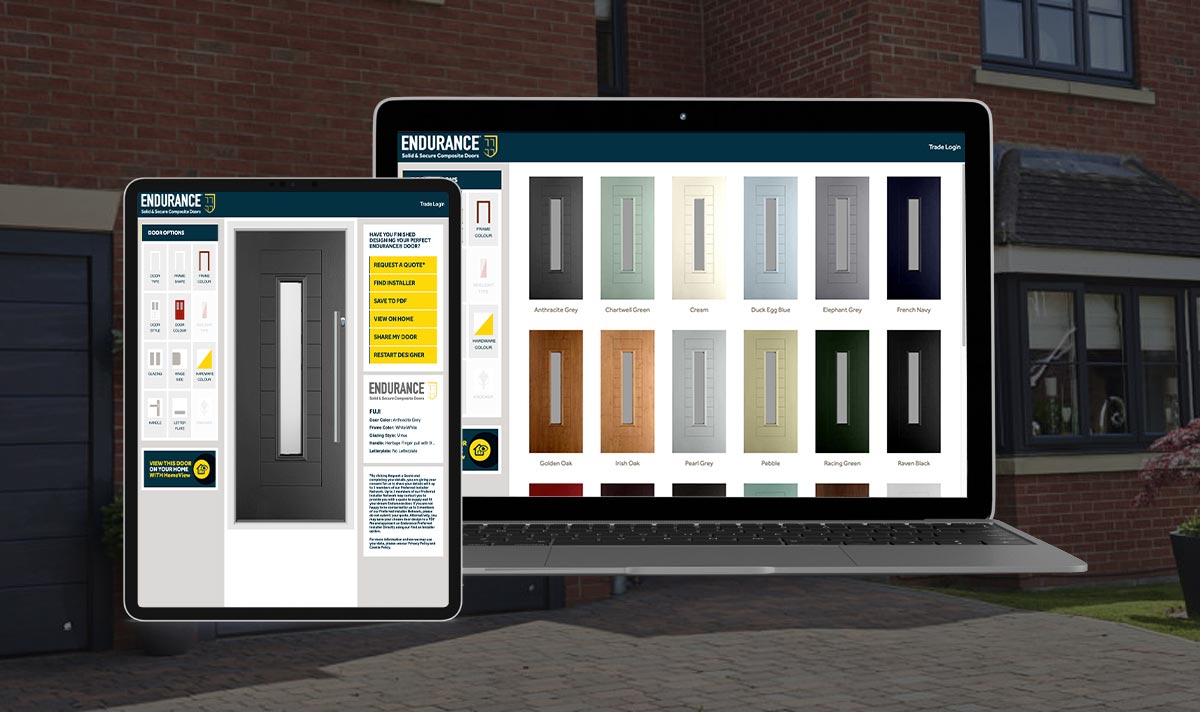 Beth's renovated house meanwhile needed a grand entrance. Her front door is a combination of Riviera glass and Irish Oak finish. It is an attractive and robust entry point, with polished chrome hardware to complete the look. The shiny knocker and letterbox give a modern touch, while the diamond design of the glass offers a nod to the past.
All these projects were put together using the Endurance Door Designer. The multiple finishing types, accessories and colour options allowed our customers to create doors that were perfect for them. They now have beautiful bespoke front doors, and we couldn't be prouder of the results.
Our Classic Collection features 20 different doors to choose from. With 18 optional colours and a wide selection of accessories and frames, you're only a few clicks away from creating your ideal front door. They are perfect for the traditional-looking property as they're built to last, offering comfort and security. There's something very reassuring about hearing your door shut firmly behind you and knowing the house is protected. If it looks amazing as well? Even better.
So, whether you're looking to recreate that traditional Georgian or Victorian vibe or want to marry the timeless with the modern, why not start your project today? Explore our range of classic designs and once you've settled on an aesthetic, use our online designer to create something unique right before your eyes. You won't even have to leave the comfort of your chair.