The right accessories can take anything, no matter how 'normal' it may seem, and transform it into something truly extraordinary – and your front door is no exception. If you're planning to renovate, you'll want to find something that really stands out on your street. Fortunately, Endurance Doors are already pretty exceptional (don't just take our word for it – see our Trustpilot reviews!), so you're at a solid starting point when you're enhancing your design with additional accessories. 
Whether you're looking at our established and renowned composite doors or our brand-new, contemporary Avantal range, we're proud to offer a wide range of accessories for you to choose from. Our online door designer tool makes it easy to see all the options available to you, including the style and colour, not forgetting the door furniture which can add the final finishing touch and make all the difference.
Little details can make a big difference. If you're in the market for a front door that is truly unique, look no further than Endurance Doors. Here, we'll outline some of our favourite and most popular accessories, so you can express your personality through your unique design and create a bespoke look that makes your new door truly yours. 
Our composite doors boast a wealth of customisation options when it comes to the accessories available. Many homeowners will opt for a classic look and feel, exemplified by Chrome or Stainless Steel door knockers including Bull Ring and Urn styles, for example. However, you may also want to consider some of our newer, on-trend options which we've added due to popular demand from customers! These include the stand-out Forged range, and nature-inspired knockers such as Bee, Dragonfly and Shell styles, which look great in Pewter, Nickel or Rose Gold to name a few.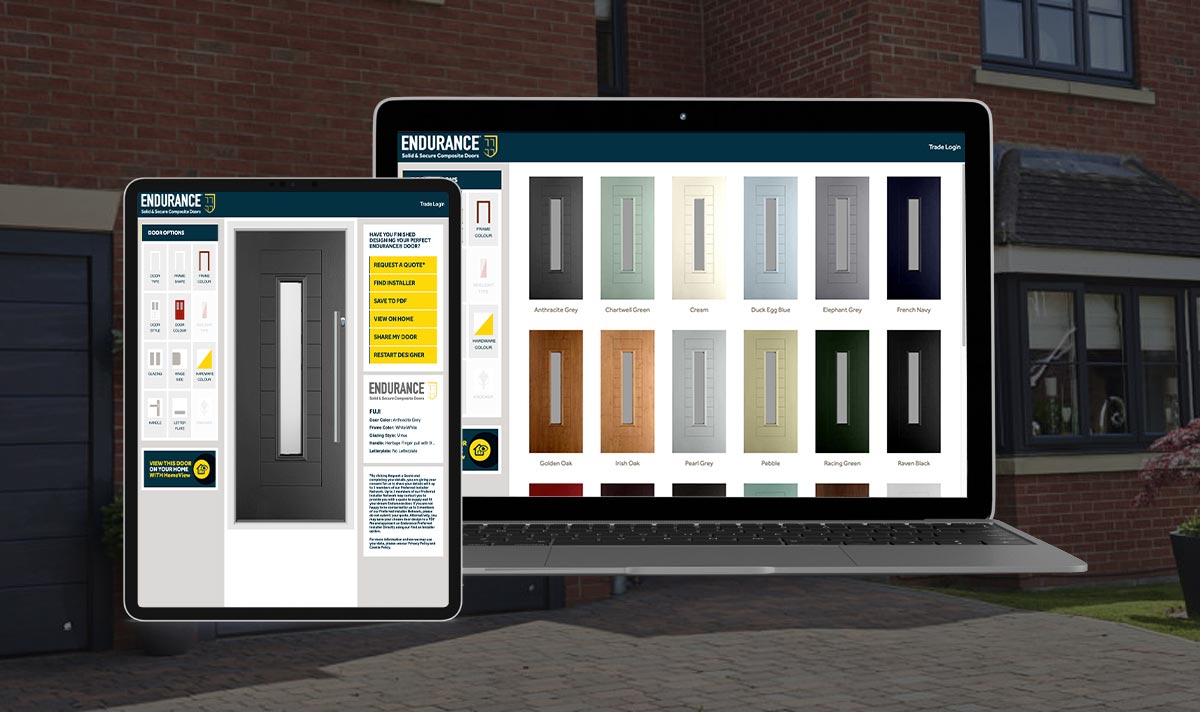 Similarly, our new Avantal Collection is already forging ahead as one of the most sought-after and stylish options on the market, and this is furthered by the range of accessories available for your design. Avantal's stainless steel Premium Hardware Collection has been carefully curated to complement the contemporary aesthetics of these ultra-modern designs. What's more, this collection's hardware comes with a lifetime guarantee! Some things never go out of fashion, like our Avantal doors, and you can have peace of mind that they'll stay looking and performing at their best too. 
Creating the perfect front door can feel a little overwhelming sometimes, with so much to consider. But here at Endurance Doors, we make the process as easy and straightforward for you as possible. When you use our online door designer, you can see your composite door or Avantal door come to life in front of your eyes! Once you've chosen your colour and style, remember to add the final touches with your chosen accessories that really can make all the difference.
Whether you want an on-trend look for your modern home or a classic feel for a heritage property, you can express your preferences and personality with your choice of hardware and furniture options. With knockers, letter plates and handles in a vast range of style and finish options, you can make your new door as unique as you. 
Explore our range of front door accessories right here on our website, choosing the colour and style that suits you, uniquely. Once you have your aesthetic in mind, start designing with our innovative online tool – and then you're well on your way to welcoming friends and family into your home through a beautiful, bespoke new door. 
Make Endurance Doors the perfect accessory of choice for your home improvement plans today!